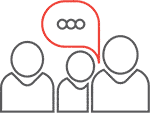 Online communication
Your website, newsletters and SMS are ongoing and highly cost-effective means to reach your market and stakeholders. In fact electronic media is usually more effective and cheaper than traditional media.
You can use electronic communication to make offers and announcements from your website to your most interested repeat customers, as well as stakeholders.
June 21 offers a standard monthly communication package for baseline sites which comprises of:
2 X short news or other updates on your site with one photo each (provided by you)

1 x short 1 column newsletter and sending (content from site updates)


1 x SMS writing

Up to 1,000 SMS sent (once per month)

1 - 2 photo changes


1 update of your list of customer email addresses and mobile numbers
Monthly: N$4,025 (incl VAT)

Please contact us separately for update quotations for retail sites.

All you have to do is provide a list of customers*, their e-mail addresses and mobile numbers, as well as the content for your update.

Individual updates or more comprehensive scheduled communication can be costed individually.

If you have more complex requirements for communication, June 21 can quote separately for those as well.

Contact us here for a basic communication package or more complex online communication requirements.
* You will need to state that all recipients on your list of customers or stakeholders agree to receive your mail and SMS. An unsubscribe button is standard with all mail newsletters, and if used will also delete the recipient's SMS number. This is in line with global marketing practice and legislation affecting servers.